Within Southeast & South Asia, a region encompassing less than 2% of the Earth's surface, a concerning narrative is unfolding. Projections suggest that by 2030, this corner of the world could contribute 30% of the global carbon-offset supply. However, to combat the uncertainties of climate change, a notable rising trend within the climate technology sector becomes evident over the past five years, their numbers tripling from 2017 to 2022. These ventures actively engage with a spectrum of ecosystem challenges, leveraging advancements including data analytics, remote sensing carbon capture, and smart grid technologies converge towards the creation of a low-carbon economy and a future marked by reduced carbon emissions. 
Amidst this encouraging momentum, the trajectory of these startups remains in its nascent stages, navigating the unique landscape of the region and contending with a constrained funding pool that erects barriers to achieving maturity and widespread adoption in the developing nations. This distinctive space demands a higher risk appetite due to unproven markets, necessitating the development of innovative mechanisms to surmount these challenges.
As startups in this sector navigate limited funding, Bangladesh similarly faces a significant financial gap in its efforts to adapt to climate change, requiring $230 billion from 2023 to 2050 for vital sectors like water, agriculture, and ecosystems. However, the government's climate-related budget has seen only a modest 1.1% increase from FY15 to FY22. There are also few anomalies in proper documentation of the allocated budget. The FY23 climate budget is cited to be Tk 32,409 crore in FY24's document, but Tk 30,532 crore in FY23's document. Some of these variations are as big as almost Tk 2,000 crore. Addressing these disparities and closing the gap between climate-related budget and investments is crucial for Bangladesh to align with global peers, highlighting the imperative of robust funding in climate technology to ensure resilience and sustainable growth.
Global Climate Technology Industry Movers & Shakers 
In line with the goal of Paris Agreement 2015, European countries are paving the way of investing in climate technologies.
The UK has the second-largest number of companies tackling climate change, with over 5,200 climate tech firms, following the United States with 14,300. In Sweden, Ireland, and the Netherlands, investments in climate tech are growing. Over 50% of tech investments in Sweden, more than 75% in Ireland, and over 40% in the Netherlands this year are in climate tech. Germany has also seen a rise, with over 35% of investments going into climate tech. Estonia is a standout, investing $79 for every metric tonne of CO2 emitted.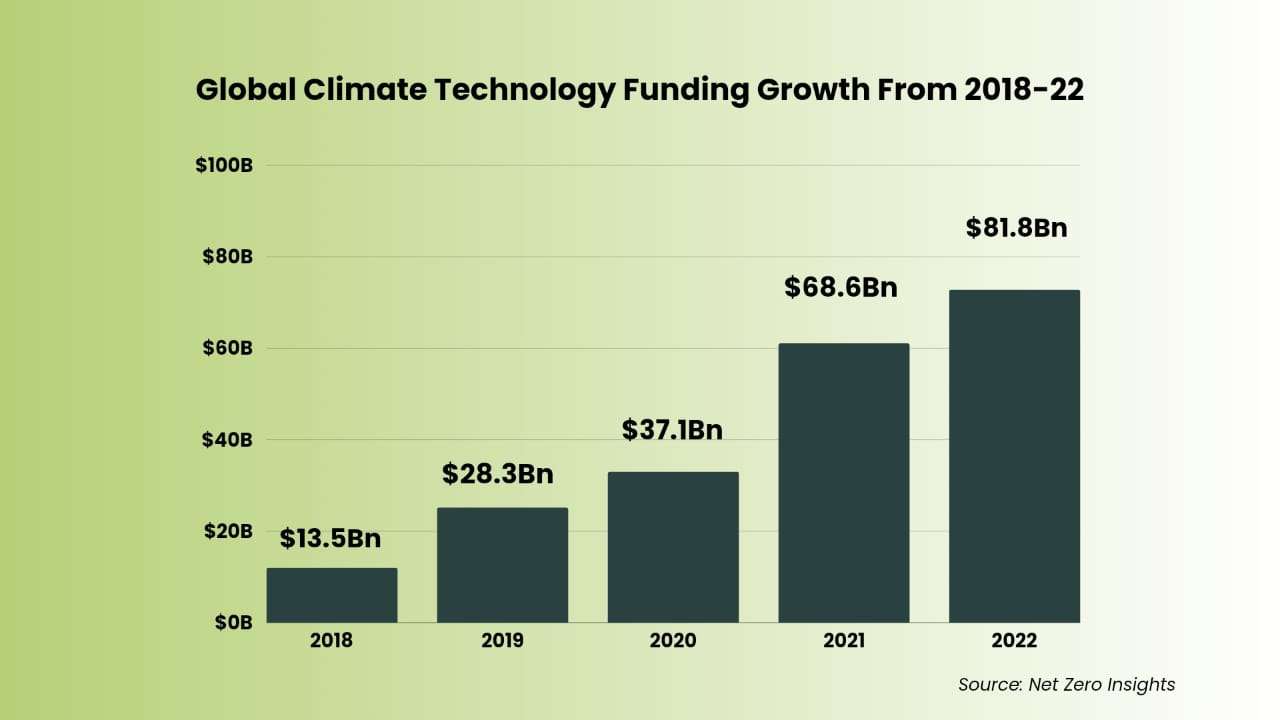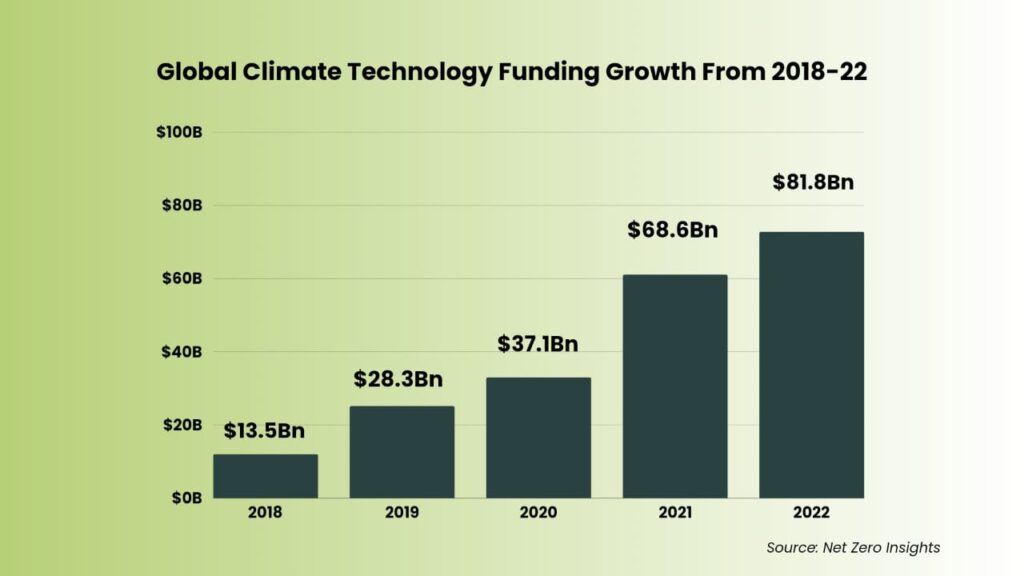 In 2022, Estonia's total investment in climate tech crossed $1 billion, thanks in part to its low emissions (12 MMtCO2e or 0.04% of global emissions) due to its small population. Sweden is another leader, investing $53 per metric tonne of CO2 emitted. They're committed to climate innovation, pledging SEK 100 million annually for climate strategies and technological innovations in energy-intensive industries.
Climate technology is gaining traction across Southeast Asia, notably in Vietnam, which secured a 5.3% share of climate tech funding, while Singapore dominated with an impressive 80.4% share. In India, investments in climate tech surged to approximately $22.5 billion in 2022, notably driven by increased debt financing in renewable energy, electric vehicle initiatives, and waste management. Indonesia, according to PwC's 2021 State of Climate Tech Report, witnessed a staggering $60 billion investment in 3,000 global climate tech startups between July 2020 and June 2021, marking an exceptional 210% year-on-year growth. 
Notable Climate
Technology Startups Making Waves in Asia
Indonesia:
Fairatmos, an Indonesian green-tech startup, has introduced the country's inaugural carbon technology platform. Their platform empowers communities to initiate carbon sequestration projects, allowing companies to fund and generate carbon offsets through carefully curated initiatives. With the goal of democratizing carbon markets, Fairatmos aids project developers in verifying carbon credits, creating carbon reduction projects, and enhancing the livelihoods of smallholder communities through additional income from carbon credits.
Fairatmos has targeted an annual emission reduction of over 2.7 million tons of CO2e. They have an extensive pipeline of upcoming carbon projects, with over 8 million hectares of forests analyzed across Southeast Asia processed by AtmosCheck. Engaging with more than 100 organizations, including corporates, communities, and NGOs, Fairatmos is at the forefront of sustainable and impactful initiatives.
Singapore: Founded in 2019 by three young environmentalist innovators, Handprint is a Singapore-based climate technology business that provides software as a service for businesses to track the environmental impacts of their digital processes. This platform enables companies to choose from a variety of verified impact projects, including plastic removal, coral reef construction, and disaster relief.
Handprint recently secured $2.2 million in a seed funding round led by Thunes, a global payments platform. The company plans to utilize these funds to expand its technology, enhance its network of impact partners, and advance its mission of transforming the extractive economy into a regenerative one. The strategic investment from Thunes positions Handprint to reach unbanked and hard-to-reach communities worldwide, leveraging Thunes' global payment network. This initiative aims to reduce intermediary costs, making it more accessible for companies of all sizes to contribute to planetary protection and regeneration.
Philippines: Komunidad, a Philippines-based climate technology start-up founded in 2019, has garnered investor interest with its innovative approach. Initially operating as an email service focused on tropical cyclone information, the company has evolved into an environmental intelligence service provider. In response to the increasing climate risks faced by the Philippines, which ranked 17th in the Global Climate Risk Index, Komunidad raised $1 million in seed funding. The start-up now plans to expand its Asian presence beyond the Philippines. Komunidad's platform offers users data-driven insights on various environmental factors, from rain forecasting to mosquito activity, enabling effective monitoring and early warning protocols. This technology is particularly crucial for nations like the Philippines, Indonesia, and Thailand, where proactive measures can mitigate the impact of climate change on both people and the economy.
WasteX: WasteX , operating in 3 Phillipines , Indonesia , Singapore & Vietnam, addresses the pressing issue of agricultural waste in Southeast Asia by providing innovative solutions to farmers, mills, and factories. The company focuses on utilizing biomass to enhance productivity, optimize operations, and reduce carbon emissions in the region. WasteX not only aids in generating additional income for farms but also channels funds from waste reclamation products to support the industrial sector's transition away from carbon-intensive operations.
In a significant development, WasteX secured $525,000 in a Pre Seed funding round from Wavemaker Impact, the pioneering venture capital (VC) climate tech startup funder in Southeast Asia. With this financial support, WasteX is poised to advance its waste valorization initiatives, converting biomass into high-value products that benefit both smallholders and large companies, further contributing to sustainable practices in the region.
Conclusion:
The notable climate technology startups across Asia, from Fairatmos in Indonesia to Handprint in Singapore, and Komunidad in the Philippines, exemplify the region's commitment to innovative and sustainable solutions in addressing climate challenges. These ventures showcase diverse approaches, from community-driven carbon sequestration projects to digital platforms tracking environmental impacts.
Being the 7th most climate vulnerable country globally, Bangladesh must draw inspiration from these successful models as it navigates its own climate challenges. By fostering a conducive ecosystem for climate technology startups, Bangladesh can encourage impactful investments and increase climate investment funds through seeking active particpation from the flourishing private sector as well. Embracing innovative solutions, similar to the Asian peers, will empower the country to make strides in climate resilience and sustainability.
Learning from the innovative startups Bangladesh has the opportunity to leverage the young minds and build a thriving climate technology sector. By focusing on collaborative efforts, impactful initiatives, and strategic investments, Bangladesh can contribute significantly to the global fight against climate change while promoting economic growth and resilience within its borders.