In 2022, Bangladesh and Norway celebrated 50 years of enduring friendship, a relationship underscored by significant economic collaboration. The fiscal year 2019-20 witnessed a thriving bilateral trade, where Bangladesh benefited immensely with a trade volume reaching nearly $1.67 billion. This surplus was primarily due to Bangladeshi exports totaling $1.35 billion, in contrast to imports of $0.2 billion from Nordic Countries. Norway has a significant share in this number.
Norway, is known as a global leader in industries such as oil and gas, energy, telecommunication, maritime, and seafood. The Climate Investment Fund (CIF) in 2022, allocated 10 billion NOK (Norwegian Krone) from 2022 to 2027. This fund is specifically dedicated to investing in renewable energy and low-carbon technologies in developing nations, with a keen focus on countries like Bangladesh facing significant emissions from coal and other fossil fuel-based power production. Bangladesh is a key recipient of CIF investments, which cover a wide spectrum of renewable energy projects. These range from large-scale initiatives like solar power plants and wind farms to smaller ventures like rooftop solar installations.
The growth of Bangladeshi exports to Norway has been remarkable, consistently surpassing imports since 1986. Before this period, exports were almost negligible. However, starting at $4 million in 1986, export values soared to over $150 million in 2011, and by 2020, they had exceeded $270 million, as depicted in the graph. Clothing and accessories play a dominant role, constituting roughly 90% of the total export value. Despite the increasing trade and investments, there are still untapped sectors in Bangladesh requiring investments. Additionally, the development assistance from Norway has dwindled over the years. Initially stable at USD 30-40 million annually until 1999, it plummeted to less than USD 15 million a decade later. In 2008, Norway restructured aid to Bangladesh, leading to the scaling down of several major programs.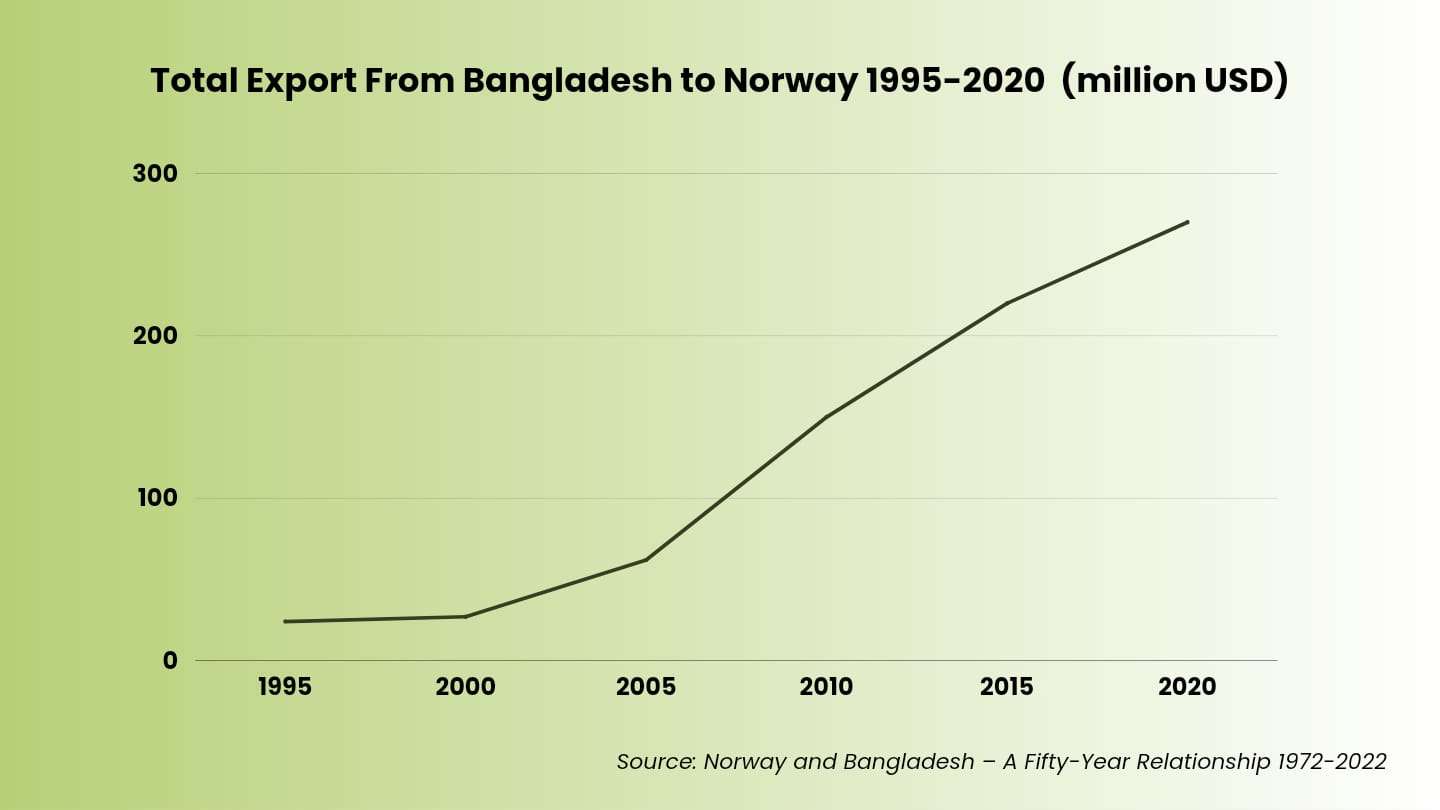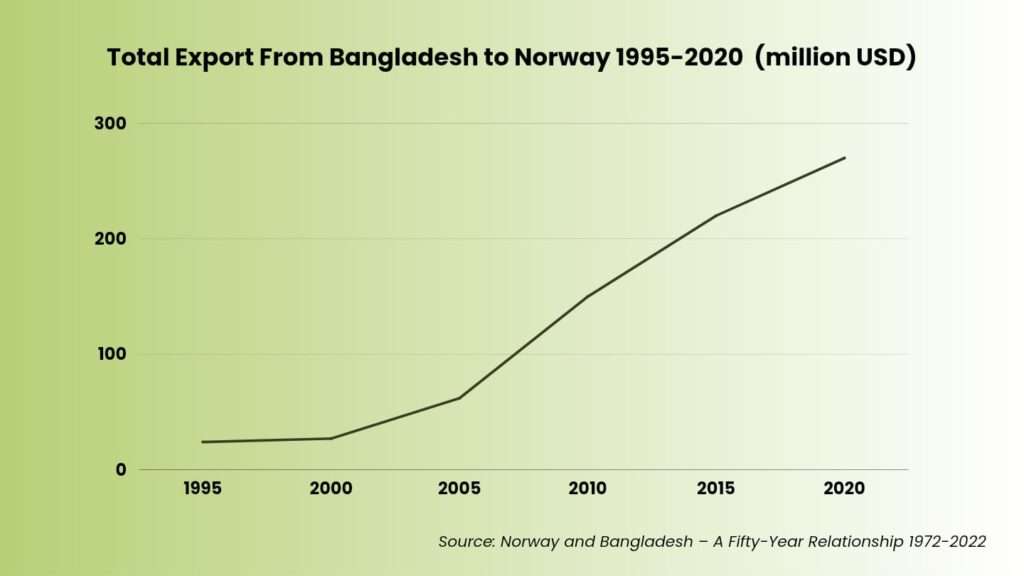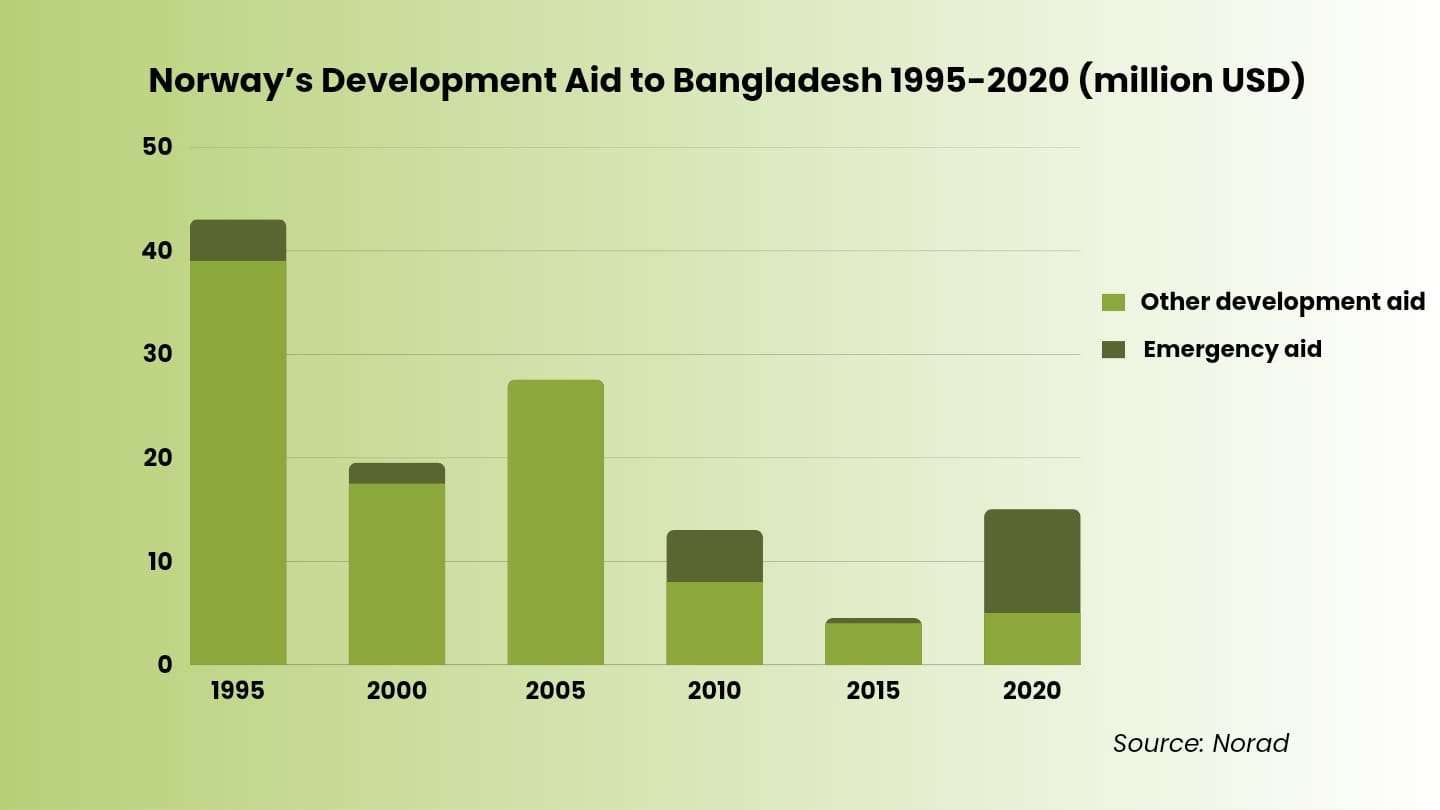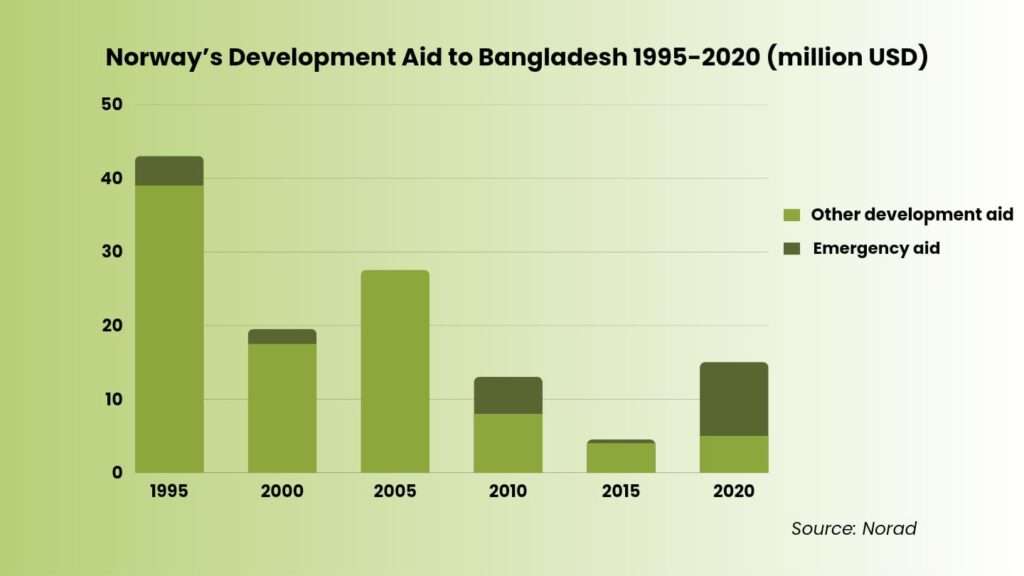 Norway's Investment scenario in Bangladesh
Norway started its journey in Bangladesh in 1997 when Telenor and Grameen Telecom joined hands to create Grameenphone. Following this, Norfund, a Norwegian investment fund, invested in various Bangladeshi sectors such as garments, energy, and sustainable projects. Government-backed funds, particularly Norfund and the Norwegian Pension Fund Global (SPU), played a pivotal role, channeling approximately USD 270 million into various Bangladeshi enterprises.
In the shipbuilding sector, Bangladesh witnessed the implementation of the Safe and Environmentally Sound Ship Recycling in Bangladesh project (SENSREC Phase I) from 2015 to 2017. Funded substantially by the Norwegian Agency for Development Cooperation (Norad), this phase focused on vital economic and environmental studies, as well as training material development. It laid the groundwork for responsible hazardous waste management in the ship recycling process, marking a significant step toward sustainability in the industry.
Norway extended its influence to Bangladesh's financial realm in 2016, investing a notable $112 million in the country's stock market. This significant move, a six-fold rise from the previous year, showcased Norway's confidence in the growth potential of the Dhaka Stock Exchange. The Government Pension Fund Global strategically invested in 15 prominent companies listed on the exchange, reinforcing economic ties and opening avenues for mutual growth.
Beyond financial ventures, Norway demonstrated unwavering support for Bangladesh's development by contributing approximately USD 170 million for education between 1990 and 2010. This aid, which included initiatives like paper deliveries for UNICEF textbooks, highlighted Norway's enduring dedication to improving education in Bangladesh, marking a significant contribution to the nation's future.
Top Asian Investment Destination for Norway
Norway's Investment in Vietnam: In December 2022, Norway, along with international partners, including the European Union, the United States, and Japan, pledged $15.5 billion for Vietnam's Just Energy Transition Partnership (JETP). This partnership supports Vietnam's goal of achieving Net Zero emissions by 2050. The funds will accelerate the shift from fossil fuels to clean energy, aiming to reduce greenhouse gas emissions and limit coal capacity. Norway is a significant contributor, with $7.75 billion in pledges, demonstrating its commitment to Vietnam's green transition.
Norway's Renewable Energy Plans in the Philippines: Norwegian firm Scatec, a key player in renewable energy, has been investing in the Philippines since 2005. Scatec ASA recently announced a substantial investment plan of $946 million, focusing on building five wind energy projects in the Philippines. This significant financial commitment reflects Norway's dedication to expanding its renewable energy portfolio globally, emphasizing the country's strategic focus on clean and sustainable energy solutions in the Philippines.
Conclusion
To strengthen investments from Norway and compete with global counterparts Bangladesh must focus on diversification and innovation. By expanding into emerging sectors, fortifying infrastructure, and implementing transparent regulations, Bangladesh can create an attractive environment for foreign investments. Prioritizing sustainable development and cultivating a skilled workforce are equally vital, aligning with Norway's environmental commitment and ensuring long-term economic growth. Collaboration, innovation, and a strategic approach are pivotal for Bangladesh to surpass global challenges and become a robust investment destination, fostering mutual prosperity and growth between the nations.