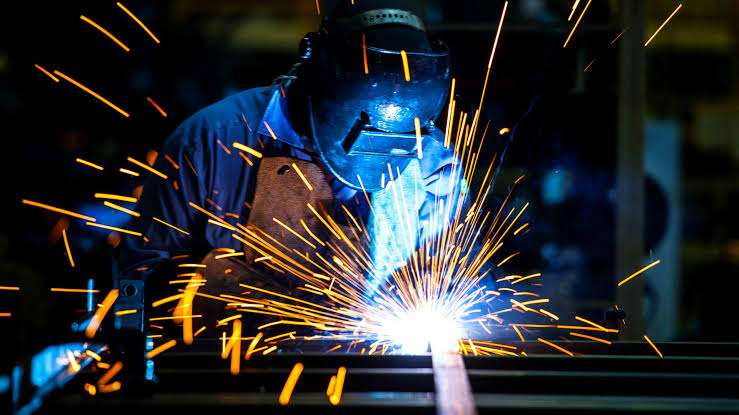 07

April
Engagement of Business Development Service (BDS) Provider for the B-SkillFUL Programme
Amidst a fiercely competitive global market, the light engineering industry's astounding growth in the 2021-2022 fiscal year proved that it is a force to be reckoned with, inching closer to its goal of capturing a substantial share of the $7 trillion export market. The sector soared to new heights with an impressive year-on-year expansion of 50.4%, reaching a staggering $795.63 million – a testament to its status as the 'Product of the Year', bestowed upon it by the government in 2019-2020. However, the industry faces a myriad of challenges that can eventually stifle its competitiveness. These include a lack of access to basic standardization, testing, and finishing equipment, as well as the overwhelming dominance of imported products from Chinese product importers who offer significant discounts and long-term credit cycles. Moreover, laborers are insufficiently trained, and the prevalence of child labor in the sector leads to suboptimal productivity. Entrepreneurs, typically worker-turned-owners with no academic or technical certification on related subject matters, have limited strategic growth aspirations and a narrow product portfolio. The sector also grapples with critical access-to-finance challenges, and functions such as business development, product diversification, marketing, accounts, and bookkeeping are often overlooked. Despite these challenges, there are ample opportunities for the sector to grow. By leveraging existing processes and technology, spare parts can be produced for diverse industry verticals. In fact, Bangladesh experienced a staggering US$529 million export receipt in FY 2020-21, nearly an 81-percent growth in shipments to overseas markets after three consecutive years of decline since FY 2017-18. However, the global export landscape being $7 trillion, the domestic exporters have much bigger opportunities to tap into, with the right regulatory incentives & to capitalize on these opportunities, the right regulatory incentives must be put in place. 
Acknowledging the significance of domestic economic recovery amid the COVID-19 pandemic. B-SkillFUL Program aims to provide tailor-made solutions to MSMEs, which will enhance their technical and management capabilities, modernize their production methods, diversify their products and services, explore new markets, and guarantee a safe and respectable working environment for their workforce. The solutions will be bespoke and focused on addressing the specific limitations identified through extensive assessments at both the sector and MSME levels.
Inspira ACL was commissioned by SwissContact to the "B-SkillFUL" Program develop a programmatic approach to address the challenges faced by the light engineering sector in Bangladesh. The approach involved the close involvement of 120 selected LE MSMEs, who provided ideas and inputs instrumental to the program execution. The program employed a sales funnel-inspired capacity enhancement approach, where LE MSMEs were exposed to lead firms from the initiation phase and enhanced their internal capacity according to the requirements of the lead firms.
The specific objectives of the program were to engage with MSMEs, provide BDS consultancy and management training, and collect data for program monitoring and results measurement purposes. The BDS services were delivered across all program locations as planned and approved by the program team.
The program had three stages. In stage one, BDS interventions were initiated through tripartite partnership agreements between MSMEs, BDS providers, and the program. In stage two, comprehensive BDS need assessments were conducted, and BDS delivery plans were developed jointly by BDS providers and MSMEs. In stage three, the program continued monitoring MSMEs, and BDS providers provided regular backstopping and mentoring.
The program also planned to develop a common platform of BDS providers during the scale-up phase, linked with the LMIF platform in the exit phase. MSMEs could access BDS providers through this platform and request necessary services in a fee-for-service market. The program aimed to help the light engineering sector in Bangladesh realize its growth potential by addressing its challenges through a participatory programmatic approach.
Description of Results Services: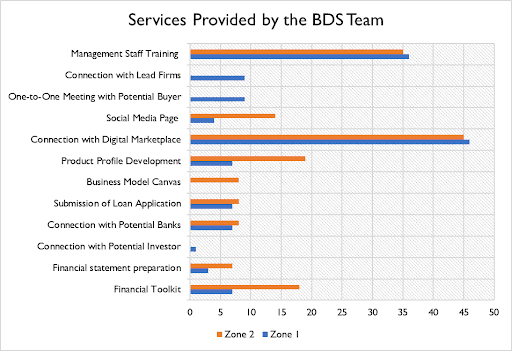 Inspira's BDS team supported MSMEs in various areas to improve their business operations and increase their market competitiveness. The team provided financial toolkit support to 18 MSMEs, helping them keep their financial records in a standardized format and secure loans and credits. Additionally, the team facilitated the submission of loan applications for 15 MSMEs and connected 15 MSMEs with banks.
The team also provided MSMEs with access to the Business Model Canvas (BMC), completed 8 BMCs, and developed 26 product profiles, which helped retain potential customers and acquire new ones. The team enlisted all MSMEs in a centralized platform named " MachineLagbe.com" , connecting a total of 91 MSMEs with digital marketplaces & introduced ample potential opportunities of business. Additionally, the team provided 18 MSMEs with a social media page, which increased their online footprint and showcased their products to a broader audience.
The team arranged one-to-one meetings with potential buyers and MSMEs, where 9 MSMEs participated and described their products and services while potential buyers expressed their requirements. The team also connected 9 MSMEs with lead firms through lead firm visits, with more visits and events planned for the coming two months.
Moreover, the team provided one-to-one training with management staff of MSMEs in different fields, completing a total of 51 training sessions on access to market, 21 in Zone-1 and 30 in Zone-2, 4 training sessions on access to finance, 1 in Zone-1 and 3 in Zone-2, and 71 training sessions on LRDW, OHS, GESI, and production process.