A Glance at the Glory Days
'Dhallywood' – the word is more than a reference to the Bangladeshi film industry. Beyond that, it contains within itself a fascinating tale that illustrates a journey from the peak of glamour to a place where its future is enveloped in doubt. Back in its glory days, Bangladeshi films were a class apart in quality, content and the talent they showcased. The audience for films encompassed people of all ages and social segments. This propelled Dhallywood towards becoming a thriving sector that drew in creative people. The first Bangla feature film, 'Mukh o Manush' made in Bangladesh (then East Pakistan) and released in 1956 was massively popular since its first run. This was followed by numerous masterpieces such as 'Shat Bhai Champa' (1968) and Beder Meye Josna (1989) (The highest grossing Bangladeshi film of all time). The commercial success and demand of Bangla films maintained consistency and spectacular feature films were made one after the other. Popular foreign actors like Rituporna and Proshenjit played lead roles in Bangladeshi movies as they perceived Dhallywood as a place to expand their prospects.
In the 90's, the industry showed promise in the form of its very own actors. They emerged not only as figures playing roles on screen. Rather, actors became household names while on-screen couples like Alamgir – Shabana gathered massive public admiration. Filmmaking in Bangladesh became a booming business, amassing huge revenue as well as acclaim both home and abroad. At this point in the saga, one would probably wonder whether this magnificent streak lasted or eventually ran out.
The glory transpired to be fleeting. The first big blow to the industry came with the death of Salman Shah. The audience and the industry mourned at losing one of the greatest actors of the time. Soon afterwards, the celebrated on – screen duo of Nayem and Shabnaz became involved off-screen and their engagement with movies reduced. The industry began losing revenue. Actors like Manna, Rubel and Sohel Rana started doing fewer movies. A new set of faces – Shabnur, Purnima, Riaz, Ferdous frequently appeared on screen but could not completely make up for the impact of the absence of the popular artists preceding them. The dearth of talent was still there; what gradually became scarce was the passion that kept the magic of Bangla film alive. Dhallywood was losing its grandeur, business viability was going downhill foreshadowing trouble, and the future of the industry was cast into a sea of uncertainty.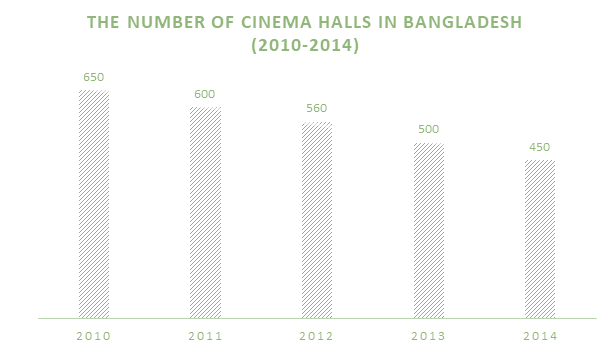 Present Day Dhallywood: Where does the Industry Stand?
In present day Bangladesh, when one thinks about filmmaking, a set of negative thoughts form. Somewhat deprecating perceptions are cobbled together to form the image of an industry that is too far gone along the path of inevitable ruin. This defeatist line of thought about the very industry that once defined the direction of South Asian film raises two acute concerns; the first – how and why the once glorious sector plummeted to the terrible state it now is in, the second – what, if anything, is being done to revive this near – destroyed industry.
Prior to addressing these concerns, it is crucial to ask an even more central question – Is it necessary to focus on saving Dhallywood? – The industry is clearly at a devastated state. It would require a great amount of effort and resources to revive and rebuild it, let alone bring it at par with its former brilliance. Why, then, should the government invest in planning and developing strategies for a sector that would consume a massive amount of resource?
This thought can be analyzed in two layers.
First, as an average individual, one needs to take a small step back and imagine a scenario where domestic films are no longer made in Bangladesh. This would mean letting go of a very integral part of the creative culture of the country. The fine line that separates the film industry from any other is that film is directly tied to the cultural representation of a country. Domestically produced movies contribute to how effective and prominent a country's cultural representation is in a global context. This makes it all the more necessary to realign priorities towards developing movies that step out of the loop of clichéd plots and target going global.
More importantly, on the second level, the situation demands analysis from a financial perspective. Around the same time that Bangladesh's film business started losing its edge, foreign film industries like Tollywood (the Telugu industry) and Nollywood (The Nigerian industry) were on the rise. Dhallywood had once been the benchmark that these industries were not strong enough to compete against. But with a more strategic approach and support from the government, they identified the market needs and designed policies that boosted growth and soon allowed them to have their own stronghold in the global film industry. In 2014, the Telugu and Tamil movie industries combined produced around 255 movies, doing particularly well at the box office. Nollywood at present produces the second highest number of films per year globally, and revenue from Nigerian films make up 1.4% of their £307bn GDP, according to the Nigeria Bureau of Statistics (Liston, 2014).
Dhallywood used to be superior to Nollywood and Tollywood in filmmaking. Had the Bangladeshi film industry been able to retain its streak of quality production, it could have had similar or even better statistics. An interesting fact to note here is that there aren't enough reliable sources for proper statistical data on Dhallywood. This is accompanied by mismanagement at Bangladesh Film Archive, which cannot account for failing to archive a shocking number of old films. Lack of initiative to address these issues significantly contributes to how fast Dhallywood seems to be dying out. Regions like Nigeria and India have managed to develop their film sectors by employing a strategic stance and they have successfully made their mark in the global commercial market. Bangladesh has neither had a similar analytical approach nor any schemes to expand the reach of domestic film beyond borders.
Movies produced in Bangladesh have deteriorated from a quality art form to crudely made films and clichéd, plagiarized storylines infused with less-than-subtle vulgarity in a desperate attempt to earn revenue. Skilful actors, producers and directors were once drawn to Dhallywood, back when it was seen as a sector with tremendous potential for growth. But now, as the industry erodes into slow decay, talented artists and filmmakers are disinclined to join this apparently sinking ship.
Prospects: Can the Magic be Revived?
The biggest roadblock in the status quo is that there is no proper system or shared line of thought in place. A lot of directors state that the lack of good actors and resources have led to this decline. Producers believe the culture of inducing crassness for attention that has slowly seeped into movies is responsible. Actors and audiences blame the lack of originality in scripts and plot. Cameramen and technicians opine that Dhallywood has not kept up with technological trends and this is what caused the industry to lose popularity and money. Amidst all these opinions, each is expressed from a different vantage point. No one can accurately identify the key factors that caused the damage or outline requirements or a plan regarding how to repair it.
Even with recent attempts from a few production houses like Monsoon Films and Jaaz multimedia to salvage the spirit of Bangla film, actors with potential like Nusrat Faria Mazhar are moving towards the foreign industry. The reason is simple – as of now, Dhallywood does not have promising growth prospects. It is not irrational to fear that one's career will likely reach a dead end in this place.
On the other hand, the presence of these new individuals in the filmmaking scene is an indicator that it is perhaps not too late to hope for revival. The country still has its fair share of loyal Dhallywood fans. Even better than that, it has people who are truly passionate about the film industry and people who have faith in the possibility of positive change. These visionaries, albeit few in number, are dedicated towards bringing back the prestige that was once associated with Bangla films. The critical thing to be understood is that this is an opportunity – perhaps the last one – to attempt to save what can be saved of the dwindling spark of Dhallywood. If not utilized now, one cannot be certain when or if there will be another such opportunity. The question remains, however, as to what the next step should be.
In a labyrinth of confusion and pessimism replacing long-lost positivity, the primary step needs to be one of understanding. First, it is necessary to figure out and characterize the problems or factors that are currently obstructing Dhallywood from reaching its full potential. Second, insights need to be exchanged and plans need to be defined. These plans should outline the requirements to bring the industry out of its terrible state. They should also determine how the industry is to be run best and what underlying principles will be in place to direct its course in the future. Third, the analysis needs to be put to use in the form of restructuring and implementation.
Film and the industry built around it has always been home for art, creativity and finesse. A sector as momentous as this in Bangladesh simply cannot be left to a fate of gradual ruin. There still is a chance to save Dhallywood, and the time to act on that chance is now. More than ever, Dhallywood needs thinkers to analyze what can be done. This analysis will be instrumental to help revive, rebuild and restructure the industry and give it the mechanism and backing principles it needs to finally meet its destination of triumph.
– Co-Written by Tasmiah Haque & Nabid Hassan Kafi, Ex Associates
Contributors of this Insight