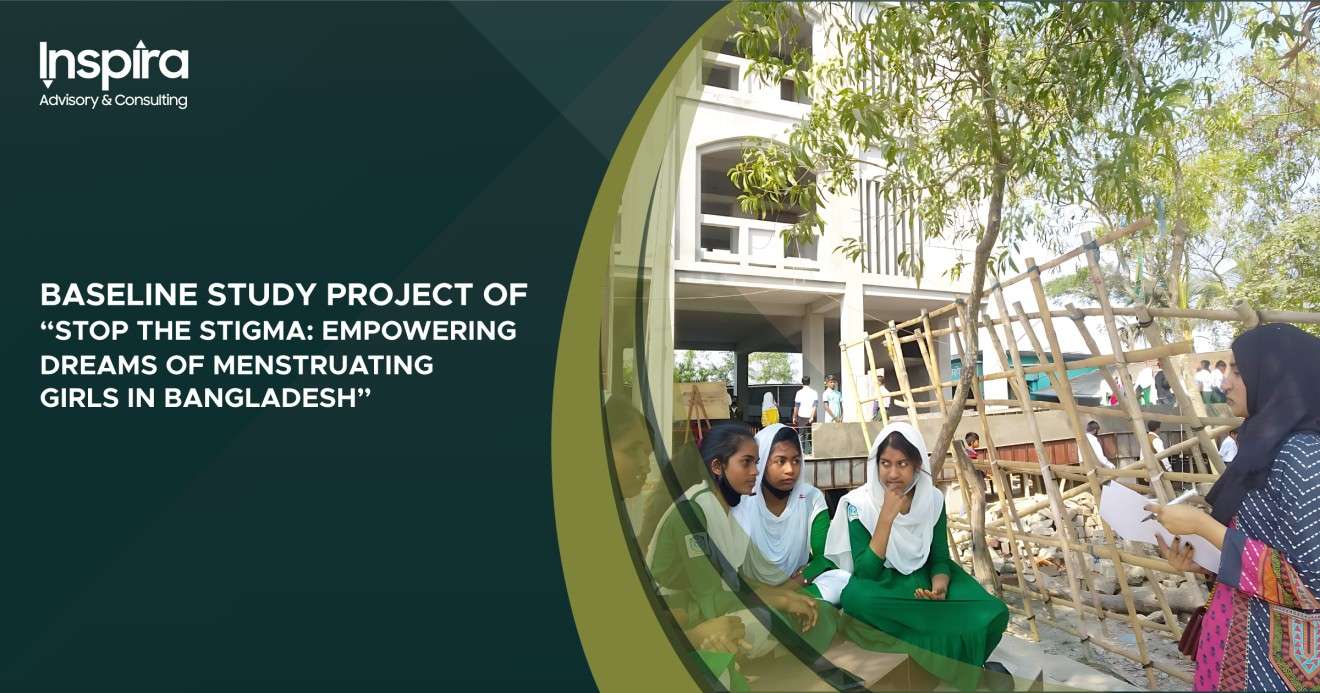 28

May
The veil of silence that shrouds menstruation in many Bangladeshi schools reflects a deep-seated cultural and societal reluctance to engage with women's bodies and reproductive health, resulting in young girls feeling uninformed about their own health. Only 36% of the girls are familiar with their first menstruation, and a paltry 6% of schools offer any education on Menstrual Health and Hygiene (MHH). The dearth of knowledge and awareness about menstruation in Bangladesh leaves adolescent girls ill-equipped to handle the physical and emotional challenges of menstruation, compounded by social stigmas and unhygienic practices, which can lead to health complications like Infertility, Bacterial Vaginosis, and Cervical Cancer & more. According to the WASH Poverty Diagnostic Study (2019), untreated vaginal infections cause around 30% of school-going girls to miss 3 to 4 days of school each month. The high cost of menstrual hygiene products is a significant obstacle for 77% of Bangladeshi women, further exacerbating the problem of preventing sexual and reproductive diseases. In this regard, Inspira conducted a baseline study of "Stop the Stigma: Empowering Dreams of Menstruating Girls In Bangladesh" project was launched by PLAN International Bangladesh and WaterAid in collaboration with SAJIDA Foundation and Rupantar for fragmenting menstrual taboo, stigma and raising awareness on menstrual health and hygiene. The study has also pointed out the   superstitions and negative attitudes about menstruation which have developed serious discrimination, stigmatization, and a lack of knowledge among women about their menstrual health and hygiene (MHH).
The purpose of the baseline study was to establish baseline values for approved indicators of the project's intended outcomes, identify current knowledge, attitudes, and practices on MHH issues at the individual, family, and community level, assess the need and availability of MH products both community and school level, identify youth club and knowledge platforms, and identify the current status of female-friendly WASH facilities in schools. 
The baseline study covered two districts, Bhola and Satkhira where the project "Stop the Stigma: Empowering Dreams of Menstruating Girls in Bangladesh" is being implemented. Within these districts, the study covered two sub-districts at the time of data collection: Bhola Sadar and Shyamnagar. Within these sub-districts, a total of 9 unions were covered.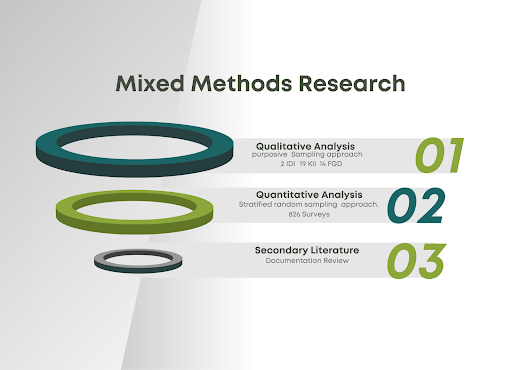 The study aimed to gain a holistic perspective on MHH issues and employed a mixed method approach, using both quantitative (survey) and qualitative (IDI, KII, FGD) methods. The team used stratified random sampling for quantitative and purposive sampling for qualitative data collection. 826 individuals were surveyed, and 14 FGDs and 19 KIIs were conducted with various community members, including PWD girls.
Knowledge about Menstruation
The major source of knowledge for adolescent girls is from the household. The stigmas and misconceptions are much higher in the parents' group which is also passed down to adolescent girls and young women. 
As the evidence suggests that the major source of information to girls is their mother. 61.06% of the respondents learned menstruation-related information from their mothers. However, the information received from their mothers can be riddled with misconception. When the mother's knowledge were assessed it was found that 81.2% of mothers believe that menstruation is the flow of impure blood from bodies. 62.5% of mothers could obviously relate menarche to reproductive health but they still hold the previously mentioned misconceptions. Fathers also hold similar misconceptions where 50% of fathers think that menstruation is the flow of impure blood from the body. 10% of fathers still think that menstruation is a disease.
Attitude towards Menstruation
Many girls experience shame and embarrassment during menstruation due to a lack of understanding and support from family and peers. A parents' respondent group from FGD stated that MH support should be coming from the female members of the family. They do not see the need for males to be part of any sensitization session. 74% out of 482 respondents have said that they have not received support from their parents and male peers.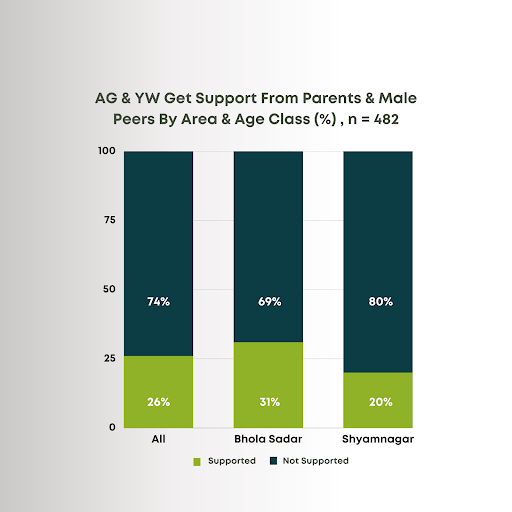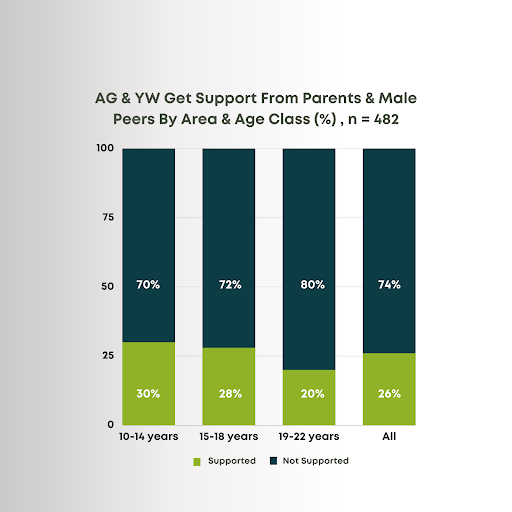 Evidence suggests that MHH is only taught to students of grade 10 and such. The topic is generally avoided for grades 6 to 9. When it comes to the hygienic status of MH products and hygienic practices, almost 75% of respondents from the FGD with parents could not identify the difference between hygienic practices and unhygienic practices during menstruation. 52% out of 482 respondents mentioned that they believe menstruation acts as a hindrance to performing better at school. Among the female respondents who said menstruation affects school performance, 72.1% stated that menstruation creates discomfort hence, results in low concentration in school lessons. 48.1% of the female respondents, on the other hand, stated that menstruation causes them to miss school which decreases the level of school performance.
Hygiene Practices During Menstruation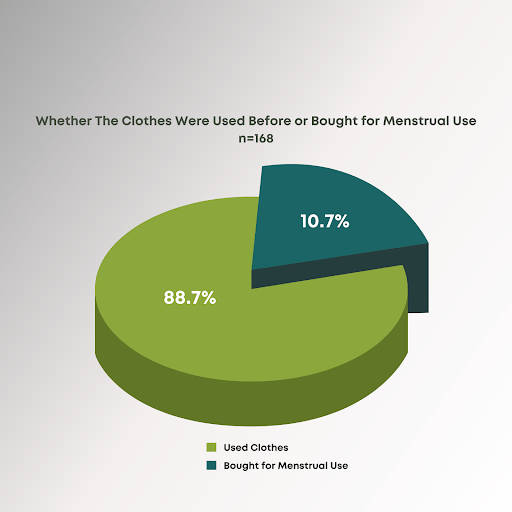 During FGD, 4 out of 6 respondents have used clothes before, and when asked about their preference most of them mentioned disposable pads. However, significant differences have been found among the age groups. Among the 168 cloth users, 88.7% stated that they source their product from cutting their old clothes i.e. kameez, saree, bed sheet, etc. Hence the clothes were already worn out from long use and are not clean enough for usage. Because bacteria and mold are prone to affect clothes that were used for a long period of time.
The top issues cited by the respondents were pharmacies being too far. If the respondent's home is far from the haat or bazar, it's quite difficult for them to buy MH products. For cloth users, health issue arises due to reusing the same cloth for a longer period of time. 58% have stated that they reuse the same clothes for 3 months and 10% have stated that they reuse the same cloth until it tears. There are also other reasons for bacteria-affect such as not washing the clothes with antiseptic(savlon/dettol), not drying them properly, or using wet/damp cloths during menstruation. During FGD the adolescent girls responded that they had to sometime use damp cloths. And most of them do not dry their menstrual clothes outside in the sun. 29.5% of the 168 respondents said that after washing they hang their menstrual clothes inside a room hidden in a corner. Only 13.6% hang their clothes outside in the sun.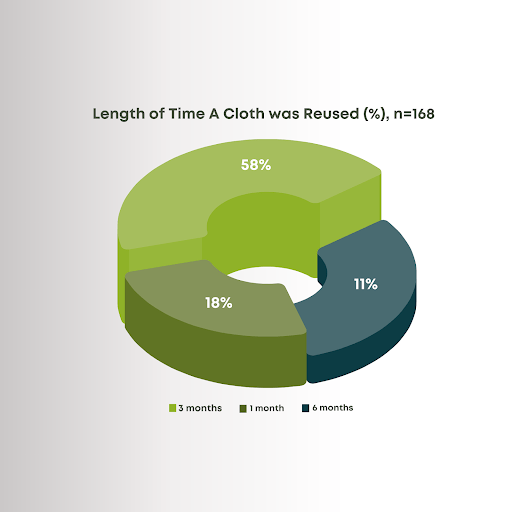 Access to MHM-Supportive WASH Facilities
Access to WASH facilities in schools 
The WASH situation in schools is so bad that the girls in most of the schools reported not using the toilet facilities if they could avoid it. Almost all of the toilets (7 out of 9 schools) seen lacked soap, running water in the toilets, MH products for girls, and waste disposal bins.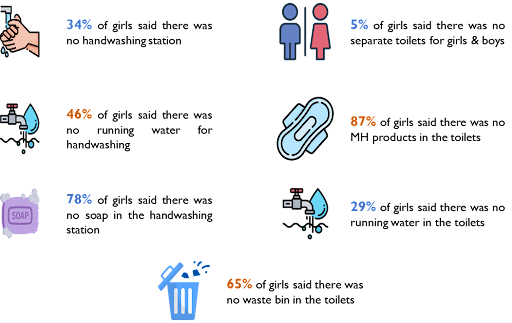 34% of girls reported that their toilets have no handwashing station and 46% of girls reported that their handwashing station lacks running water facilities. Furthermore, 87% of girls reported that there are no MH products in their toilets and 65% of them also reported that there is no disposal bin for MH products. More than half (58%) of the girls reported that they do not feel comfortable using the WASH facilities of their schools during menstruation. Dirty toilet (85.1%),  too much crowd  (72.7%), lack of privacy (52.4%), inadequate space (43.6%), and no water in the toilet (42.1%) are the most cited reasons by those who reported uncomfortable of using school WASH facilities.
Access to WASH facilities at home 
Inadequate and inappropriate WASH facilities at home, including lack of access to clean water, soap, and toilet facilities, can lead to poor menstrual hygiene management. This can cause a range of health issues, such as infections, skin irritation, and urinary tract infections.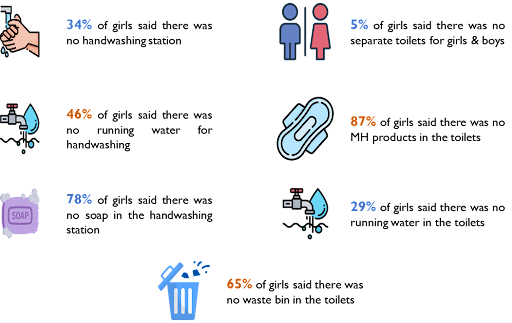 As the diagram shows, two-fifths of the girls reported that their toilets are lacking in handwashing stations (40%), and soap (41%) for handwashing. Of those who reported having a handwashing station in their toilets, more than two-fifths (42%) of them reported that their handwashing station lacks running water. More than two-thirds (69%) of girls reported that their toilets are lacking a waste disposal bin for MH products.  After considering all of the criteria for whether the WASH facilities are MHM-friendly, overall 74% of girls do not have access to MHM-friendly WASH facilities at their homes.
Given that the community 's knowledge, attitude, and perception are still influenced by social norms and beliefs, intervention strategies should be planned by targeting a wide range of community stakeholders  starting from direct beneficiaries, parents, support providers, and community influencers. As menstruation term is often sexualized, majority of the female often experience taunts, verbal abuse, etc. Having said that, the recommendation has been designed by considering the social-ecological model. Challenges have been identified through four lenses of the stated model.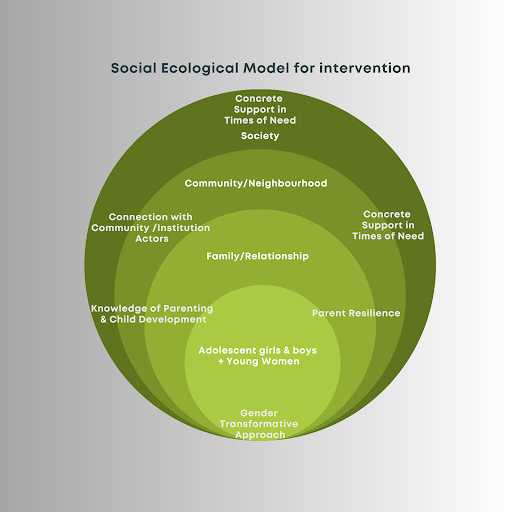 Engaging schools' youth and cultural clubs to promote MHM and WASH practices : 
One possible intervention strategy to promote menstrual hygiene management (MHM) could be to integrate MHM into pre-existing school clubs. By incorporating MHM into the club's agenda, club members can ensure the continued participation of adolescents and youth groups, and promote the longevity of the club's existence. These clubs could also be responsible for organizing school grade-wise sensitization sessions, along with trained School Management Committee (SMC) members. In addition, school-based clubs could collaborate with community-based youth clubs to jointly initiate community-level sensitization programs to destigmatize menstrual health issues among community members. This can help to promote a more inclusive environment for girls and young women and educate both girls and boys about the importance of menstrual hygiene management. 
Alternative water sources in WASH facilities : 
The  implementation team should initially onboard technical experts to identify and assess possible water sources and design alternative water facilities to address the sustainability issues of water supply in the WASH system. The pond sand filtration and pond purification system can be introduced in the WASH facilities. Water distribution dampness, another possible water distribution channel can be assessed. In the system, filtered pond water is transferred into a central damp which will be connected to the existing WASH facilities through the water pipe. The water will be transferred to the system after the water filtration process. 
Training on MHM among SMC and female teachers of the school and madrasah : 
Training sessions on MHM knowledge dissemination techniques and methods can be provided to SMC members and female teachers. At the initial phase of the session, the implementation team will create a knowledge transfer roadmap to engage school clubs. This roadmap will also incorporate how such knowledge can be transferred to the next successor.  The trained teacher can use both MHM pamphlets and audio-visual documentaries to sensitize both male and female students of school/madrasa. The lesson should be introduced as "আসো নিজের সম্পর্কে জানি" whereas the equal concentration will be provided to girls and boy. Both of the beneficiaries will know about changes in their body, and common health practices including MHM, etc. from the specific lesson. This lesson can be introduced to grade 6-10 students. 
Connecting Entrepreneurs with MFS providers and training them on Business development services
Sanitary napkin producers who were trained under different government and NGO-led initiatives and currently not operating in the market can be connected with micro-finance service providers who give loans at the lowest interest rate. At the very initial stage, the implementation team needs to identify common business operational or skill-related issues experienced by entrepreneurs. As per entrepreneurs' needs, business development services including  raw-material sourcing in a cost-effective method, connecting with forward market actors, product costing methods, Bookkeeping methods, etc can be introduced by the implementation teams.