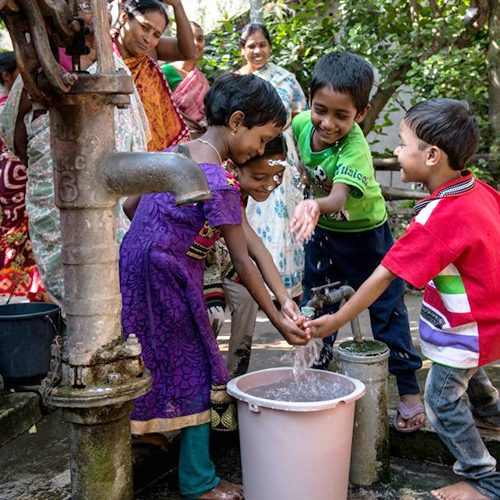 10

September
Flowing Towards Progress: The Top 5 Investible Water & Sanitation Service Enterprises in Bangladesh
Background of the Project
In this 21st century, there is still a dearth of sanitary knowledge among the people of Bangladesh. Even the majority of Bangladeshi people can't manage to have basic water and sanitation services. If access to funding for CMSMEs engaged in Water and Sanitation Services (WSS) is improved, it may facilitate a transition that may play a vital role in improving access to safely managed water and sanitation services. Water.org has contracted Inspira ACL to carry out research to explore the landscape of Small and Medium Enterprises involved in the Water and Sanitation Services sector in Bangladesh. The purpose of this study is to boost commercial investment and represent enterprises operating in this sector. It will feature a full profile of the top 30 CMSMEs, emphasizing their business dynamics, revenue fundamentals, value chain resilience, and overall effect on the inclusion of the Base of Pyramid, climate, and water security, therefore addressing the sector's existing lack of data. 
The first step was to make a list of 100 CMSMEs that work in the WSS sector at various levels around the country, and then develop a preliminary database. The assessment team has first conducted desk research to get the knowledge necessary to start looking for CMSMEs operating in the WSS sector. The assessment team has undertaken a set of preliminary interviews with MFIs and FIs after doing desk research. But only 2-3 MFIs had an existing database of WSS CMSMEs that could be shared with the assessment team. So, the assessment expanded its sourcing strategy to other entities such as NGOs, INGOs, relevant business associations, cooperatives, Government actors etc. The assessment team conducted Key Informant Interviews (KII) with the cohorts either by direct meetings or via online platforms like phone calls/skype/zoom meetings. The initial 100 WSS CMSMEs were developed by assembling information taken from secondary literature reviews and Key Informant Interviews (KIIs). Following the analysis of the primary database, a shortlist of the top 30 investable WSS CMSMEs was created.
After the research conducted by Inspira, top 30 investable enterprises were selected from the 100 CMSME database. The enterprises belong to the following 7 WASH segments- Tubewell, Water Pump, and their spare parts Producers, Plastic toilet accessories manufacturers, Latrine Producers, low cost Sanitary Pad Manufacturers, Drinking Water and Industrial Waste Water Treatment ((ETP and STP services providers), Soap Manufacturers, Innovators/Start-ups
The top 5 investable enterprises that are engaged in providing WASH solutions are listed below-
Hydroquo+:

Established in 2019 by Zahin Razeen, Hydroquo+ is a hi-tech startup business that combines the idea of artificial intelligence (AI) with water management to assess water quality. The Hydroquo+ team creates, implements, and manages specialist consultation projects in the disciplines of AI-tech based monitoring, hydrodynamic modeling, water quality modeling & operational management systems using big data analytics,machine learning and advanced computer modeling system.Hydroquo+ combines the computer modeling and technology to provide mission-critical insights in water-related events and to develop a comprehensive understanding of the country's complex water-related concerns. Hydroquo+ is a limited liability company and the core team consists of 6 members from Bangladesh, UK and Canada. 

Dana Water:

Dana Water is an ETP/STP service provider in the country. Established in 2015, it presently has a large footprint in the industry vertical serving multinationals, large conglomerates, and local companies in the wastewater treatment segment. With international partnerships with Aerzen, General Electric, and SUEZ Water Technologies, the company is currently the largest local ETP/STP service provider in the country.
FloWater Solutions Ltd.:

FloWater Solutions Ltd. provides complete water and wastewater solutions to serve the needs of businesses and organizations in Bangladesh. A pioneer in promoting water recycling, the company's Effluent and Sewage treatment plants prevent environmental pollution by industries making the recycling and reuse of wastewater possible through flowater technologies. FloWater has successfully executed over 100 projects across Bangladesh, such as drinking water plants, efficient wastewater management systems, and sewage treatment plants. Adopting a policy of vertical growth, the company has shifted its focus towards industrial effluent treatment plants for the nation's ever-booming RMG and textile industries. In addition to the above, FloWater offers solutions for pharmaceutical, leather, paper and pulp, power, and steel industries. The core size of the FloWater is approximately 14 members. The business was initiated in Chittagong at first but now provides nationwide coverage of its services.

Frontier tech:

Frontier tech was Established in 2014, as a first ever 360-degree water treatment company led by a woman in this sector. The business's primal goal is to ensure provisioning of pure drinking water to all at an affordable price. Frontier Technology Ltd. has set its steps as one of the pioneer water treatment companies in assembling, marketing and selling water purifiers and treatment solutions, using the Reverse Osmosis (RO) process. In addition to selling & marketing water purifiers for office, domestic & industrial use, the business also provides custom-made solutions to Desalination Mobile Water Treatment Plant, Waste-water Treatment Plant (WTP) and Effluent Treatment Plant (ETP) in different industrial & manufacturing sectors.

Real Metal Limited (RML):

Real Metal Limited is a foundry based in Bogra producing tube wells with national level distribution channels. Established in the Bogura BSCIC (Bangladesh Small and Cottage Industries Corporation) Industrial Estate in 2005, the enterprise presently has a production capacity of 360 tons per month. The company currently employs 120 employees including 15-20 female employees.
Excluding the 5 CMSME WSS enterprises described above, there are 25 more investable enterprises that were selected by Inspira. All of them are classified differently based on the aforementioned 7 WASH Segments.